The Story
Use of LIBOR as a reference rate is going away: The expectation is that LIBOR will cease to be supported at the end of 2021, and that new reference rate indexes will need to replace it.
The movement to alternative Replacement Risk Free Rates (RFRs) has been challenging. Liquidity is slowly building in the RFRs and as well as transition timing to alternate reference rates causes challenges for amending existing contracts.
Legacy contracts and new contracts continue to reference LIBOR: There continue to be legacy LIBOR contracts with maturities extending beyond 2021. Also, there are new LIBOR contracts with maturities beyond that date. The movement to alternative Replacement Risk Free Rates (RFRs) has been challenging.
The Scope
The remediation of LIBOR related products and contracts is significant
IBORs are also extensively embedded in the processes, operations, models, data and technology infrastructure.
At the very minimum, firms will need to identify every reference to an IBOR across the entire organization, and then replace it with a reference to one of several possible reference rates, with the choice contingent on the specific situation.
The Approach

How Vertical Relevance Can Help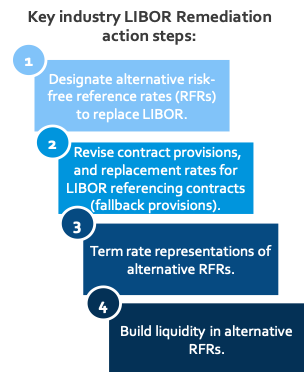 Impact Assessment
Assess the current state to dimension lines of business, functions, processes, products and assets impacted.
Perform systems and data traceability to determine scope of remediation effort.
Planning and Remediation Services
Develop the detailed mitigation implementation plan (Roadmap) to include updating products; amending contracts; adjustment to hedges; evaluation of business risk; changing policies, procedures and processes; and changing data and technology.
Provide program governance, communication, change management and execution services.